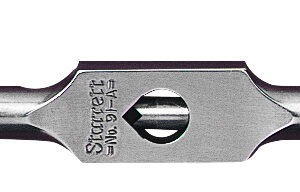 91A Tap Wrench
Currently out of stock - call Customer Services for more information.
The 91 Tap Wrenches are strong and well proportioned. They are nicely finished and the gripping surfaces are properly
tempered. They will firmly hold square or round shanks. They are plunger operated by knurled sleeve – the spring inside the sleeve causes plunger to back off when pressure is removed.

Note: Round shanks can be gripped, but care must be used. Excessive pressure may break the movable V-jaw.

Item Number: BP062
Global Item Number: 91A
Tap Size Inch: 1/16-1/4
Tap Size mm: 1.6-6.35
Square Shank Inch: 3/32-5/32
Square Shank mm: 2.4-4
Body Length Inch: 6
Body Length mm: 150
Status*: MTO
Country of Origin: USA

*MTO Made to order – Products subject to longer lead times when stock is not available.
MTO lead times: China: 90 days / USA: 120 days.
*MTS Made to stock (regular availability).