Plumbers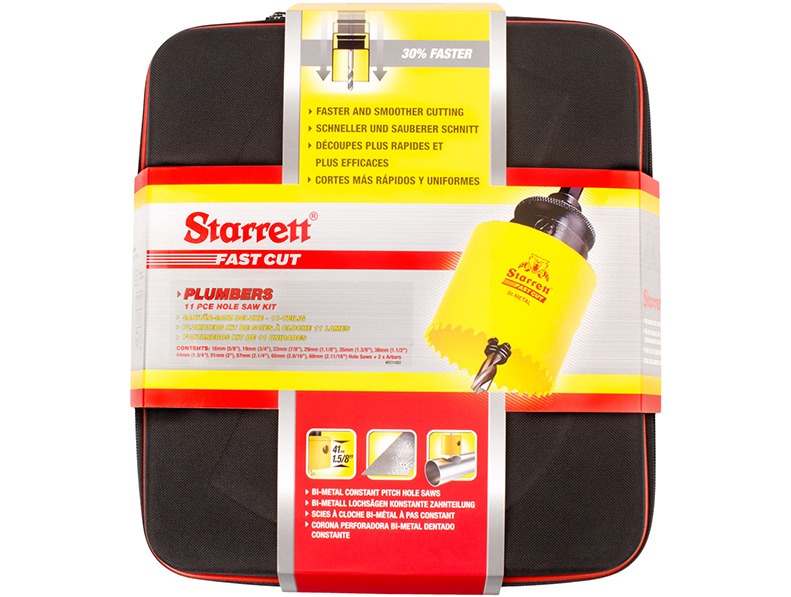 Starrett offers a comprehensive range of hole saw kits dedicated to plumbers. Our kits feature a range of saws with sizes specifically selected to suit the relevant applications of the trade.
Bi-Metal DCH Deep Cut
The Deep Cut Bi-Metal Hole Saw combines the tried and tested tooth form of the previous Dual Pitch product, but with new extra cobalt high speed steel teeth, providing enhanced heat and wear resistance. The Deep Cut Saw also features an increased hole saw depth of 51mm (2″), and is ideal for cutting metal of more than 3mm thickness, tubes with a wall thickness of greater than 3mm and wood up to 51mm (2″) thick.
Bi-Metal FCH Fast Cut
The Fast Cut Saw combines a new tooth material, with enhanced heat and wear resistance, and a new tooth design, providing a smoother, faster cut on a wide range of materials, when compared against the previous Constant Pitch Saw. Specifically suited to cutting stainless and mild steel sheet, the Fast Cut will also cut through tubes with a wall thickness of up to 3mm (1/8").