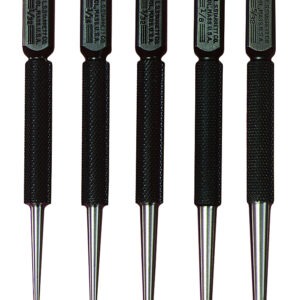 800A Square Head Nail Punch
Currently out of stock - call Customer Services for more information.
Nail set has a square head that provides a large striking surface and prevents the tool from rolling.

Knurled grip for secure holding
Square head provides a large striking surface
Beveled end prevents breakage
Cupped punch surface to follow nail without sliding off
Hardened and tempered
Made of specially selected steel
Punch diameter clearly marked on the head

Item Number: DM632
Global Item Number: 800A
Length Inch: 4
Length mm: 100
Punch Diameter Inch: 1/32
Punch Diameter mm: .8
Status*: MTO
Country of Origin: USA

*MTO Made to order – Products subject to longer lead times when stock is not available.
MTO lead times: China: 90 days / USA: 120 days.
*MTS Made to stock (regular availability).