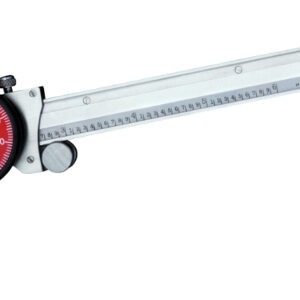 R120A-6-6 DIAL-CALIPER
£235.72 Exc VAT
In Stock
This is one of the handiest measuring tools available, used by mechanics and toolmakers everywhere. It is direct reading, reliable and accurate.

READABILITY FEATURES

Sharp, clear dial graduations of .001" or 0.02mm – .100" or 2mm in one revolution
Sharp, black graduations on the satin finished bar, every .100"or 1mm
Choice of black, red, or white inch dials; millimeter dials are yellow

ACCURACY AND LONG-LIFE FEATURES
Long-wearing carbide faces on outside contacts on model 120AX-6 and 120MX-150 only
Hardened stainless steel bar, measuring surfaces, rack, gears and depth rod
Positive, split-gear anti-backlash control
Rack teeth point down to make it easy to shed foreign matter and thereby keep the area clean

Item Number: BQ9425
Global Item Number: R120A-6
Range: 0-6"
Status*: MTO
Country of Origin: USA

*MTO Made to order – Products subject to longer lead times when stock is not available.
MTO lead times: China: 90 days / USA: 120 days.
*MTS Made to stock (regular availability).