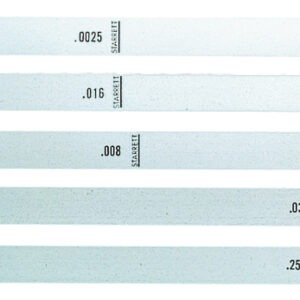 667-1 Feeler Stock Leaf
£4.18 Exc VAT
In Stock
These gauges are widely used in automotive, aviation, diesel and farm equipment manufacture and service and also in jig, fixture, gauge and experimental work.

Inch sizes are 12" long, 1/2" wide and furnished in 33 different thicknesses ranging from .0005-.030"
Rounded ends make stock easier to work with
Made of the finest tempered steel
Each piece marked every 6" with thickness (exception 667-1/2) and in individual envelope
With convenient 5mm (3/16") hole punched in the end for hanging

Item Number: DH642
Global Item Number: 667-1
Thickness: .001"
Status*: MTS
Country of Origin: China

*MTO Made to order – Products subject to longer lead times when stock is not available.
MTO lead times: China: 90 days / USA: 120 days.
*MTS Made to stock (regular availability).