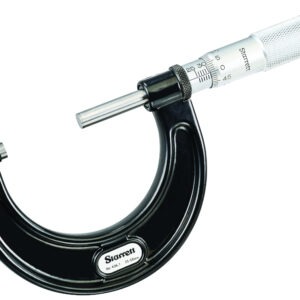 436.1XRL-1 Outside Micrometer
Currently out of stock - call Customer Services for more information.
436.1 Outside Micrometers

These are the most popular precision micrometers used by skilled workmen worldwide. They are accurate, rugged, and easy to use with rugged spindles and anvils at 6.35mm (.250") diameter.

Starrett satin chrome finish – no glare – resists rust
Advanced sleeve design with staggered lines and distinct figures for precise and easy readability
Balanced frame and thimble design ensure easy handling
Ring-type knurled lock nut for quick and sure locking
Smooth friction thimble for uniform pressure, the combination ratchet and speeder for uniform pressure and quicker adjustment, or a plain micrometer that depends on your own "feel"
Gracefully designed tapered frame for use in narrow slots and tight places
Rigid steel frame ribbed for extra strength on sizes through 150mm (6")
Extremely hard and stable one-piece spindle (the heart of our accuracy)
Quick and easy adjustment

Item Number: CU9408
Global Item Number: 436.1XRL-1
Range: 0-1"
Graduation: 001"
Status*: MTS
Country of Origin: China

*MTO Made to order – Products subject to longer lead times when stock is not available.
MTO lead times: China: 90 days / USA: 120 days.
*MTS Made to stock (regular availability).