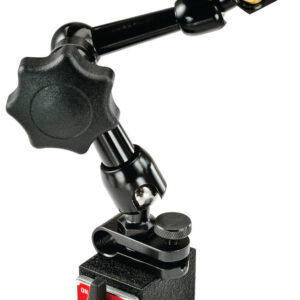 660 Magnetic Base Indicator Holder
£146.79 Exc VAT
In Stock
The compact and versatile 660 Magnetic Base Indicator Holder has three adjustable pivots controlled by a single knob for fast, easy indicator positioning.

Small but powerful magnetic base with 320N (70lb) holding force
Positive On/Off switch
Base Dimensions: 30mm x 40mm x 35mm (1-3/16" x 1-9/16" x 1-3/8")
Horizontal and vertical mounting positions
Will hold any indicator with a 9.5mm (3/8") stem or standard dovetail mount
Articulating arm with powerful central locking knob, provides full 360º horizontal positioning and over 180º vertical positioning
Maximum Horizontal Reach: 120mm (4.750"); Maximum Vertical Reach: 190mm (7.500")
Very sensitive fine-adjustment thumb screw

Item Number: DG912
Global Item Number: 660
Description: Base Indicator Holder
Status*: MTS
Country of Origin: China

*MTO Made to order – Products subject to longer lead times when stock is not available.
MTO lead times: China: 90 days / USA: 120 days.
*MTS Made to stock (regular availability).