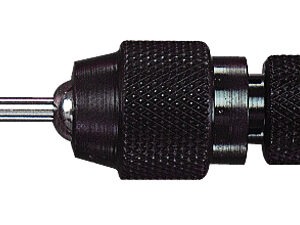 828A centre finder with point
Currently out of stock - call Customer Services for more information.
Wiggler/Centre Finder S828 and four different attachments adapt to countless applications and are readily interchangeable. The attachments are snapped in the chuck without removing the collet nut and are clamped by a ball swivel-joint that permits adjustment to an angular position or true concentricity. With Pointed Shank 828A, working centres can be quickly and accurately located. Spring tension on the ball of the point permits guiding the point to true concentricity so that the work can be brought into perfect alignment with the machine spindle.

Ball Contact 828B is useful in locating work by first bringing the contact (ball diameter .250" or 6.35mm) against the work, a slot, hole, shoulder, or end, and indexing the work to the desired position relative to the spindle. Disc Contact 828C, which has a small disc at the end (.100"/2.54mm) diameter, permits use in more confined areas such as slots or shallow holes

Item Number: DO103
Global Item Number: 828A
Description: Wiggler/Centre finder with pointed shank
Status*: MTO
Country of Origin: USA

*MTO Made to order – Products subject to longer lead times when stock is not available.
MTO lead times: China: 90 days / USA: 120 days.
*MTS Made to stock (regular availability).