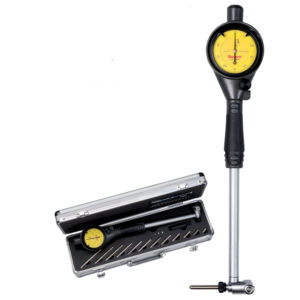 3089M-181-10J BORE GAUGE SET
Currently out of stock - call Customer Services for more information.
The 3089 Dial Bore Gauges offer precision, a full compliment of features and excellent value.

Ergonomic design with non-slip insulating grip
Carbide contacts for extended wear
2-point contact
All anvils laser marked for easy selection
Gauge chart for quick and easy anvil selection
Includes sturdy aluminum case with cutouts for Gauge and all accessories
Resolution: .0005"

Item Number: DR9396
Global Item Number: 3089M-181-10J
Measuring Range: 6-10mm
Resolution: 0.01mm
Depth: 40mm
Status*: MTO
Country of Origin: China

*MTO Made to order – Products subject to longer lead times when stock is not available.
MTO lead times: China: 90 days / USA: 120 days.
*MTS Made to stock (regular availability).