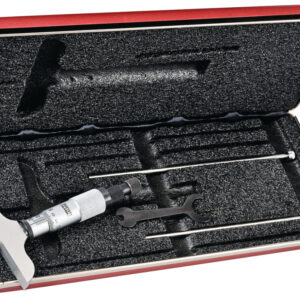 440Z-6RL Depth Micrometer
£356.63 Exc VAT
In Stock
Depth Micrometer

The depths of holes, slots, shoulders and projections can be measured to 0.01mm or .001" with these fine tools
440 Gauges furnished with a 63.5mm (2-1/2") base and 3.2mm (1/8") diameter measuring rods
Combination ratchet and speeder for uniform pressure and quicker adjustment
Ring-type lock nut for quick and sure locking

Item Number: CV132
Global Item Number: 440Z-6RL
Range: 0-6"
Base: 2-1/2"
Rods: 6
Rod diameter: 1/8"
Status*: MTS
Country of Origin: China

*MTO Made to order – Products subject to longer lead times when stock is not available.
MTO lead times: China: 90 days / USA: 120 days.
*MTS Made to stock (regular availability).